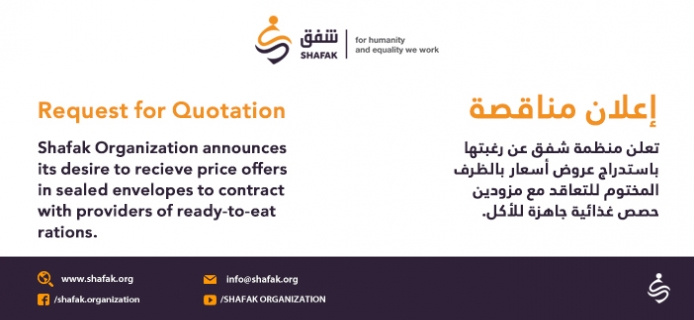 إعلان مناقصة
-  منظمة شفق هي منظمة مجتمع مدني غير ربحية مستقلة تأسست رسميا في تركيا عام 2013 بهدف تقديم الخدمات الإنسانية للناس الأكثر ضعفا بغض النظر عن الدين والعرق واللون والانتماءات السياسية بغية إعادة النهوض بالمجتمع السوري على أسس من العدالة والمساواة والحرية.
 (16-20-11-717) طلب عروض أسعار
حصص غذائية جاهزة للأكل
الشروط العامة
الكمية المطلوبة: 6338 جاهزة للأكل الحصص الغذائية
آخر موعد للتقديم: 10 كانون الثاني 2017 الساعة 17:00
فترة التوريد: خلال خمسة عشر (15) يوما لجميع الكميات بعد توقيع العقد
موقع التسليم: نقطة الصفر (باب الهوى) أو مستودعات شفق في داخل سوريا (سرمدا) أو مستودعات المزود
الغرامات: 5٪ من قيمة المواد المتأخرة
شروط الدفع: خلال 20 يوما بعد الاستلام والمطابقة
العملة: يجب أن تكون بالدولار الامريكي
الفواتير: فاتورة الرسمية في تركيا مع الضريبة
الشروط الفنية
- يجب أن يكون تاريخ انتهاء الصلاحية لجميع المواد أكثر من سنة واحدة على الأقل
- تقديم عروض اسعار بدون عينات من المواد سيؤدي الى رفض العرض المقدم
- إن الأسعار المقدمة في العروض يجب أن تشمل: التعبئة، التغليف (6338 سلة غذائية) في صناديق الكرتون، وشعار شفق ومحتويات السلة على الكرتونة.
ينبغي أن تدرج الوثائق التالية في العرض:
- شهادة تسجيل الشركة
- شهادة رقم التعريف الضريبي
- تفاصيل الحساب المصرفي
- الخبرات السابقة للشركة
ملاحظة: يجب أن تكون جميع العروض مختومة بختم الشركة الرسمي، وأن ترسل الى عنوان المنظمة مع سلة العينات المطلوبة قبل تاريخ 10 كانون الثاني الساعة 17:00
العنوان:
Gazi Muhtar Paşa Bulvar / Budak Mahallesi / Yasem İş Merkezi / Kat:2   No:204 Şehitkamil / Gaziantep / Türkiye
للحصول على ملفات المناقصة ولائحة الشروط والمواصفات الفنية الرجاء مراسلتنا على الايميل بذكر رقم طلب الشراء في سطر العنوان:
منظمة شفق
قسم المشتريات
Advertising
-        Shafak was officially established in 2013, while it is founded during the early months of the Syrian Crisis in 2011. At its core, Shafak is a grassroots NGO that was formed by Syrians for Syrians, with the intent of addressing the needs of their life with dignity, equality and humanity with a focus on sustainability and autonomy.
-        Shafak is an impartial, independent, non-profit NGO that exists for the express purpose of providing humanitarian services to vulnerable people regardless of political or religious affiliations and on the long run to contribute to recover and rebuilding the society on freedom, justice and equality basis.
Ready to Eat Rations
Request for Quotation (16-20-11-717)
General Conditions
-        Required quantity: 6338 ready to eat rations
-        The deadline for application: 10 January- 2017 at 17:00.
-        Period of supply: During fifteen (15) days for all quantities after signing the contract
-        Delivery location: Zero Point (CILVEGOZU / Bab Al Hawa) or SHAFAK Warehouses in Sarmada or vendor warehouses inside Syria.
-        The fines: 5 % Of the value of the delayed materials
-        Payment terms: After receiving, stocking and matching during 20 days
-        Currency: Must be in USD
-        The Invoices: Official invoice (With KDV)
Technical conditions
- All items must have expiration date more than one year at least.
- Samples of the material (contents of the Ready to Eat Rations) will bring the offer) The offer is rejected without Sample)
- The Prices provided includes: Packing, wrapping 6338 food baskets in cartoon boxes, SHAFAK logo and content of the basket.
The following documents should be included in the bid:
·       Certificate of company registration
·       Tax ID certificate.
·       Bank account details
·       Past company Experience
NOTE: All bids must be stamped with the official company stamp and are placed a single envelope closed with sample from each items in the RFQ and sent to the address of the organization – procurement department, before the date of: 10 January 2017 at 17:00
Address: Gazi Muhtar Paşa Bulvar / Budak Mahallesi / Yasem İş Merkezi / Kat:2   No:204 Şehitkamil / Gaziantep / Türkiye
For tender files, and list the conditions and technical specifications, please contact us at the following email mentioning the number of purchase request in the subject line:
Procurement Department
SHAFAK Organization